Written by: Carla Barnhill
Illustrated by: Elena Kucharik (artist for Care Bears)
List Price: 14.99
ISBN: 978-1-4143-3445-5
Trim Size: 5 3/4 x 7 1/4
Binding: Hardcover
Kaitlyn, Zoe, Parker and Jack have become four of my best friends, and they soon will be yours and your toddler's.
In these "Do-Able" Daily devotions, Kaitlyn, Zoe, Parker and Jack help to show your toddler the importance of focusing on Christ in everything we do.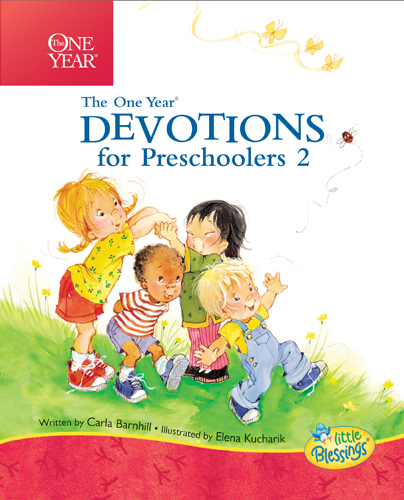 With devotions like "Fantastic You," where we are reminded to place our confidence in Christ, and "Safe in the Storm," where we are reminded that God will always keep watch over us, your toddler will learn very early that God cares about the intimate details of his or her life.
Perhaps my favorite devotion is "Run Away" where we are reminded to run from evil so that we may live! Something that even we as adults need to be constantly reminded. Of course we cannot forget the daily scripture verses to help your toddler learn to hide scripture in his or her heart at an early age.
This book is esthetically pleasing full of attractive colors and pictures, and the hardcover binding ensures that this is a devotion that can be used for years to come.*
* Tyndale House Publishers provided me with a complimentary copy of this book to review
Please don't forget to subscribe to our twitter page for more information on this book or any other book reviews on our site.
(Visited 13 times, 1 visits today)