Author Kathy Peel
List Price: 16.99
ISBN: 978-1-4143-1620-8
Trim Size: 6 7/8 x 9 1/4
Binding: Soft Cover
Release: January 2010
" Are you married to your housekeeping opposite? Feeling overworked and underappreciated? Struggling to agree on how a house "should" be run?"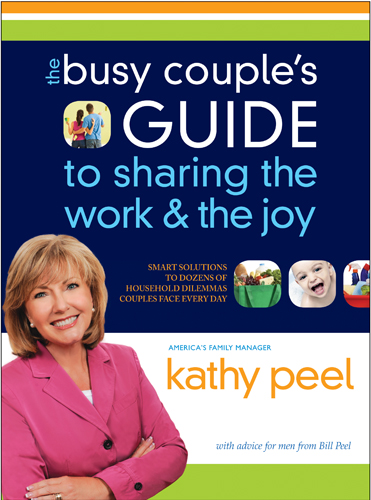 This book* can be summed up in three words: "Communicate, Communicate, Communicate!"
Although this reviewer is not married, she was curious to know what Ms. Peel had to say about marriages and how to share responsibilities. After a quick glance at the table of contents the section entitled "Why 50-50 won't work" immediately caught my attention.
I had heard many times before that it would be impossible to delegate responsibilities in such a fashion, but I had never before read it in a book. Ms. Peel breaks everything down, in an easy to understand fashion, so that we realize that not only is 50-50 an unworkable proposition, it is also undesirable, once we realize what 50-50 entails.
This book is hands-on, very helpful and full of tidbits of advice on the major aspects of any family experience. From "Managing relationships with family and friends" to "Managing menus and meals" to "Managing finances."
There are tools to help resolve conflict in relationships, assess "his normal" and "her normal" and come to a resolution on "our new normal."
Whether you are single, engaged or married, in a tumultuous or peace-filled relationship, this book is one of the best things you can spend $16.99 on.
* Tyndale House Provided me with a free copy to review
To win a copy of this book:
1. Follow us at http://twitter.com/iyasostuff
2. Tweet @iyasOStuff and tell me that you would like to get this book
3. Tell us why you think this book will be a great addition to your library by commenting on this post (in 20 words or less)
(Visited 12 times, 1 visits today)