Cupidity: 50 stupid things people do for love (and how to avoid them)*
Authors: Haley & Michael DiMarco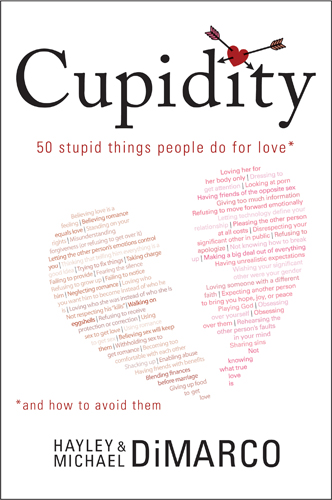 List Price: 14.99
ISBN: 978-1-4143-2467-8
Trim Size: 5 1/2 x 8 1/4
Binding: Softcover
Release: January 2010
"You're a smart person. You really are. Most of the time. So why are you having such trouble making sense of your love life?"
The DiMarco's (authors of dozens of Hungry Planet books) have done it again! If I had 5 thumbs I would give it "5 thumbs up!" (I mean the title is brilliant- Cupidity: Cupid & Stupidity)
This book is very relevant, very timely, and I like the way they speak to the married and single people, because even though the issues are different, the heart is still the same.
The Book is split into 5 sections
Section 1: Emotional Acts of Cupidity
Section 2: Mental (Gender-Specific) Acts of Cupidity
Section 3: Physical Acts of Cupidity
Section 4: Social Acts of Cupidity
Section 5: Spiritual Acts of Cupidity
While I enjoyed every section of the book, especially since I realized that I had committed just about every act of cupidity, my favorite was probably Section 4: Social Acts of Cupidity. With titles like "Having Friends of the Opposite Sex," "Giving Too Much Information," "Making a big deal out of everything," and "Refusing to Move Forward Emotionally," it seemed as if the DiMarco's were writing the book about the love life of (ahem) "a close friend" of mine.
Get it. Read it. You'll enjoy it (and hopefully learn something as well)…
* Tyndale provided me with a free copy to review
To get more information and/or to purchase this book
Click Here.
(Visited 20 times, 1 visits today)