(DON'T FORGET TO CLICK THE BUTTON BELOW FOR YOUR FREE GOODIES)
You're single, you're lonely, you're depressed, and you're tired of all these people telling you that you will be fulfilled when you meet Mr. Right, and that God will only send you Mr. Right when you are content to be without him.
Don't make the same mistake that all those lonely married women make. Get the free excerpt of my book, ignore those stupid I mean misinformed people, and finally feel free to be fabulously you. 🙂
That's why I wrote Impossible is Stupid.
~ Osayi
Click on the picture below (book cover) for the FREE Impossible is Stupid book excerpt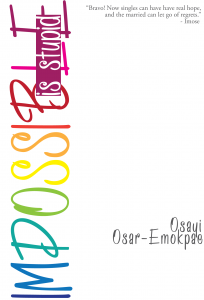 Get your free goodies below, to help you begin the journey, with no strings attached – You don't even have to give your email or anything.

Free EXCERPT of the fabulous book: IMPOSSIBLE IS STUPID
Free Impossible is Stupid action guide (to help you with the next steps)
Free Impossible is Stupid Audio guide
And more!
Praise for

Impossible is Stupid
Impossible is Stupid, what a title for a truly inspirational piece. Reading through the draft copy of the book, amidst my busy schedule was a time well
invested. The book is filled with nuggets of wisdom to fight loneliness and live a fabulous life.

Impossible is Stupid, is a paradigm shift from conventional book writing. Osayi, I salute your courage in daring to write this book.

Caution: Read only when you are ready to make real
decisions about your life.
– Segun Akiode
Nuggets for Nobles
I loved it all.
– Jackie Paulson
My favorite chapter is 22 (stop cussin' yourself) This chapter really makes me cringe because I curse a lot when I'm angry and I never thought about how the words we use affect us more than the person we are using them on. It really makes me think twice about just shutting my mouth & not saying a word when I'm angry because if that's what it will take to make me better then amen to me!!
– Velia Ronquillo-Auk, Colorfulsweets,
Stockton, CA
Funny, down to earth, practical and illuminating, the book will not only get you thinking but also acting. Although written primarily for women, any man reading
it will obtain many useful hints on enhancing their relationship with the woman in their life.
– Ayo Adebamowo, UK
Author of A Life of Impact
This book is a must read for every woman! Impossible
is stupid when you make the seemingly impossible
issues in life possible!
– Itohan Osayi, M, Wife and Mother
Lagos, Nigeria
Impossible is Stupid has been an added blessing in my life. I wish there was an android application and screensaver. What I like most is that each "beatitude"
works without reading the paragraph that follows it, though you do want to read that. Thanks for your work.
– Dege Vernet
San Diego, CA
Impossible is Stupid is honest, straight-forward, and easy to read for folks like me that don't read much. I could see myself gifting a book like this to a few people I know.
– Mia Jones
Cre3sol, Baltimore MD
We Often Pray for God's Gift, but God's gift has been manifested to us through the life of this great daughter of Zion, Osayi Emokpae!! She is an inspiration to our generation today. Her book (Impossible is Stupid) will inspire, challenge, motivate and catapult you to another level. It will help you see your true self in the mirror, and challenge you to begin to take the necessary steps in God's direction as you unveil your true worth, and discover your true purpose; not just as a woman who has been through ups and downs in relationships, but as a child of God.

Woman thou art loosed, for truly Impossible is Stupid.

A dynamic book! One of a Kind!! A must Read!!!
– Abies Adeyeri
Miami, FL
For free Goodies
(Visited 1,336 times, 1 visits today)